For a Monday, I'm pretty happy. I have two reasons for this. The first is you guys ... my faithful and my brand new followers. I came home after a long weekend to over 80 followers, which I think is amazing. I started this blog as a hobby and some way to talk out about books I've read because my husband is tired of hearing my banter. I never expected for others to actually like my posts and follow my blog. So, thank you all for making me feel special!
The second reason?
The Darkest Lie
is released tomorrow!! After all of my chatter about Gena and her Lords of the Underworld series, this probably doesn't surprise you. ;)
Since I'm trying to do new things with this blog, I thought I'd start with a shameless promotion post for Gena's books. After all, this blog is solely about all things book-related ... and what good would it be if I didn't promote my favorite author(s) and their books? So, here's the deal. I'm going to post a little 411 about Gena and her books, then I'm going to take it one step further. To celebrate the release of Gena's new books and my followers, I'm going to host my
FIRST GIVEAWAY
. Great, right?! The details of the giveaway will be at the end of this post.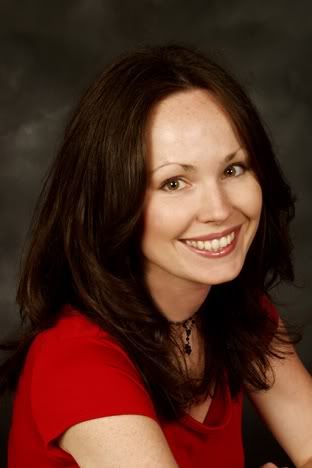 Gena Showalter started her writing career at the age of 27 with the publication of her first book, The Stone Prince, in 2004. Six years later, Gena has well over two dozen books in her arsenal, not including the several anthologies she has contributed to over the years.

From
eHarlequin
:
Gena Showalter has always believed in love. An avid romance reader, she decided to try her hand at a story of her own and is now the author of sexy paranormal romances, including The Stone Prince, The Pleasure Slave and Heart of the Dragon. She is also the author of Awaken Me Darkly, the first in the darkly seductive Alien Huntress series. Fans of Sherrilyn Kenyon and Karen Marie Moning will find a new favorite in Showalter. Her wildly sensual page-turners have mix of humor, danger and wickedly hot sex, a combination sure to enthrall.
Gena's Books
Series:
The Lords of The Underworld
First Published: 2008
He is the guardian of hell, more monster than man.

She is the goddess of oppression, more angel than woman.

Together they will enter the flames to battle a horde of demon lords -- and discover a passion unlike any other...

Discover the origin of the dimOuniak and the demon spirits trapped within.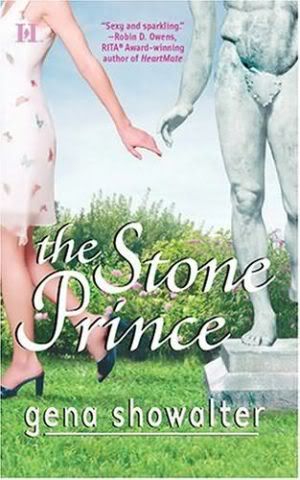 Series:
Imperia
First Published: 2004
A love as bright as the stars and enduring as stone...

Katie James is unlucky in love---so unlucky she's been reduced to kissing the marble statue in her own garden. But her luck changes when the statue warms to life in her arms---and turns out to be a hunk straight out of any woman's fantasy! Well, almost...Jorlan en Sarr hails from a distant planet and like all the other men Katie's known, he comes with a lot of baggage.

A cursed warrior with a lover's magic touch...

Entombed in his stony skin for centuries, Jorlan has been waiting for a maiden fair to break the spell. Yet this statuesque beauty with the will of an Amazon and kisses like flame is a far cry from the obedient damsels of Imperia. And though Jorlan is tempted to abandon all for the sake of Katie, unless he can convince her to give him her heart in two weeks' time, he'll be turned back to stone. And she'll be lost to him forever.
Series:
Alien Huntress
First Published: 2006
RIDDING THE WORLD OF EVIL,

ONE ALIEN AT A TIME.

In a time and place not too far away, Mia Snow is an alien huntress for the New Chicago Police Department, and she's the perfect girl for the job. Tough and sexy, she's earned each of her scars battling the elusive enemy among us. Now, investigating a series of killings, she is shaken to the core when a burst of violence leaves her partner Dallas fighting for his life. A tall, erotic stranger holds the power to heal the injured agent -- and to bind Mia in an electrifying and dangerous seduction. He is Kyrin en Arr, of the deadly Arcadian species -- an alien, a murder suspect -- who has Mia walking a knife's edge, risking her badge and even her life. . . and edging closer to a shocking revelation that will shatter everything she's ever believed.

Series:
Atlantis
First Published: 2005
Searching for her missing brother, Grace Carlyle never dreamed she would discover a secret world populated by mythological monsters or find herself facing a sword-wielding being whose looks put mortal men to shame.

But there he was, Darius en Kragin, one of a race of shape-shifting warriors bound to guard the gates of Atlantis, and kill all travelers who strayed within its borders.

Now Grace's life was in his hands, and Darius had to choose between his centuries-old vow and the woman who had slipped beneath his defenses and stolen the heart of Atlantis's fiercest dragon.

Series: Tales of An Extraordinary Girl
First Published: 2006
Used to be my greatest achievement was holding a job more than three days. Now suddenly I can shoot fireballs, chill your drink or blow-dry your hair at fifty paces with a blink of my eye!

It all started when this crazy scientist dropped something in my Grande Mocha Latte. Of course I got wicked sick. Next morning I'm waking up with this total hottie bending over me. He tells me:

1) his name's Rome Masters,

2) he's a government agent and

3) I can control the four elements with a thought.

He seems even less pleased by my (apparently irreversible) transformation than I am…. Because now he'll have to kill me.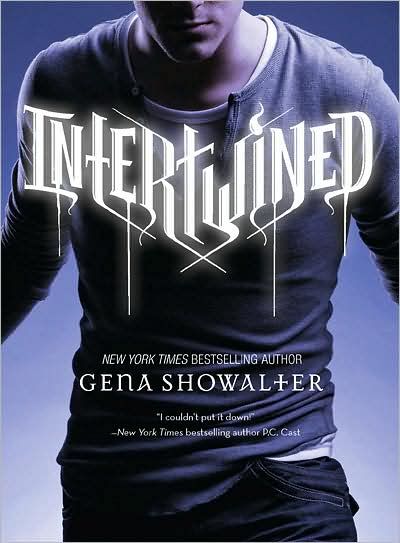 Series:
Intertwined
First Published: 2009
There's something about the new guy at Crossroads High . . .

Most sixteen-year-olds have friends. Aden Stone has four human souls living inside him:

One can time-travel.
One can raise the dead.
One can tell the future.
And one can possess another human.

With no other family and a life spent in and out of institutions, Aden and the souls have become friends. But now, they're causing him all kinds of trouble.

Like, he'll blink and suddenly he's a younger Aden, reliving the past. One wrong move, and he'll change the future. Or, he'll walk past a total stranger and know how and when she's going to die.

He's so over it. All he wants is peace.

And then he meets a girl who quiets the voices. Well, for as long as he's with her. Why? Mary Ann Gray is his total opposite. He's a loner; she has friends. He doesn't care what anyone thinks; she tries to make everyone happy. And while he attracts the paranormal, she repels it. For her sake, he should stay away. But it's too late. . .

Somehow, they share an inexplicable bond of friendship. A bond about to be tested by a werewolf shape-shifter who wants Mary Ann for his own and a vampire princess Aden can't resist. Two romances, both forbidden. . . doomed. Still, the four will enter a dark underworld of intrigue and danger. . . but not everyone will come out alive. . .

For other books by Gena Showalter that are NOT part of a series,
click here
.
Now, for my giveaway! Since I am promoting Gena, it's only right that I give away one of her books. I like choices and I hate being one of those people that tell you exactly what to read, so I'm going to give you three choices.

Your prize choices:

The rules are simple:
1. Since this is a giveaway celebrating followers, you have to be a follower.
2. If you want some extra entries, then all you have to do is promote. My blog, Gena Showalter, Gena's books ... anything relative to this post.
3. You have to live somewhere that Book Depository ships.
4. Do NOT forget to fill out the form below ... it's how you're entered in the contest!
5. Please have entries in by midnight EST on Saturday, July 10th.
*TIP!: If you enter a lot of contests and follow a lot of blogs, leaving a comment on giveaway posts helps. That way, you know where you have been and where you haven't. =)
To enter, fill out
THIS FORM!
[
Form taken down. Contest officially closed. Thanks to all those that participated!!
]
EDIT: Not a lot of people know my favorite Lord and I want you guys to get as many points as possible to help your chances of winning. So, here's a hint ... if you've been a follower for the past month or so, you already know who my favorite Lord is. ;)