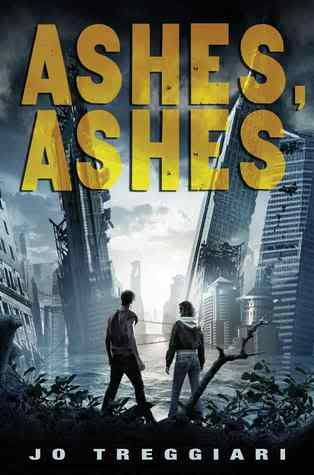 Ashes, Ashes
Jo Treggiari
Publisher:
Scholastic

Release Date:
June 1, 2011

Genre:
YA, Dystopian

Pages:
Hardcover, 343 pages

Source:
Purchase

Rating:
4/5 (Avg 3.5/5)
A thrilling tale of adventure, romance, and one girl's unyielding courage through the darkest of nightmares.



Epidemics, floods, droughts--for sixteen-year-old Lucy, the end of the world came and went, taking 99% of the population with it. As the weather continues to rage out of control, and Sweepers clean the streets of plague victims, Lucy survives alone in the wilds of Central Park. But when she's rescued from a pack of hunting dogs by a mysterious boy named Aidan, she reluctantly realizes she can't continue on her own. She joins his band of survivors, yet, a new danger awaits her: the Sweepers are looking for her. There's something special about Lucy, and they will stop at nothing to have her.
I'd have to say that I thought this one would start out a little lackluster. The main character is alone, so there's a severe lack of dialogue and social interaction. However, there is a vivid description of the world - so vivid that it could give me nightmares. I'm kind of a girl when it comes to being alone, and the insight of this world creeped me out a little... in a good way, though.
Soon enough though, it accelerates when Lucy meets up with Aidan and his crew. Not only do we get to know him and the other survivors better, but we get a better sense of who Lucy is as well. She's a strong, determined character with many likeable traits including her fierce loyalty and her ability to stay a little mysterious, not completely transparent once a boy comes into the picture. Aidan is pretty sweet, as well as a tough survivor. Their relationship was a nice, steady one though I always kept my eyes out for Henry - who was a witty little character.
There were a few unanswered questions that I never got out of the story, as well as some parts I could have done without. This was kind of a shaky
4
for me, but it was better than a
3
... so maybe I should say
3.5
? Whichever the case, it's a pretty decent read that I think a nice majority of YA readers would like.
---
---