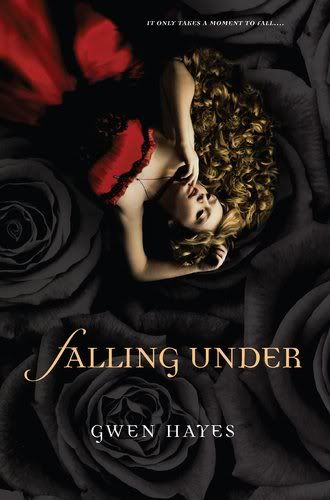 Falling Under
Gwen Hayes
Publisher:
NAL

Release Date:
March 1, 2011

Series:
Falling Under

Genre:
YA, Paranormal Romance

Pages:
Paperback, 324

Source:
SFBR

Rating:
4/5 (Avg 4/5)
Theia Alderson has always led a sheltered life in the small California town of Serendipity Falls. But when a devastatingly handsome boy appears in the halls of her school, Theia knows she's seen Haden before- not around town, but in her dreams.





As the Haden of both the night and the day beckons her closer one moment and pushes her away the next, the only thing Theia knows for sure is that the incredible pull she feels towards him is stronger than her fear.





And when she discovers what Haden truly is, Theia's not sure if she wants to resist him, even if the cost is her soul.
This review has taken me a while to write because I wanted to make sure that I did it some justice. Though this book is a pretty quick read, it took me a few days to get into it. I think what did it for me was the press release, in which

Falling Under

was compared to

Twilight

. After that,

Twilight

was stuck in my head and I couldn't help but notice every single, solitary thing that it had in common with the widely popular vampire series. It even mentions sparkling vampires in it. I know a lot of people who say the comparison in the book is in jest, but for me it was just... tacky.
With that being said, I took a step back before I wrote this review. To be honest, I don't think that I would have noticed the similarities as much if I wouldn't have read any of the PR - sans the whole '

sparkling vampire

' bit... that was a little obvious. When my mind was clear, it was easier to see that

Falling Under

had traits in common with

Twilight

that most YA paranormal romances have - the dangerous boy, the insta-love and, well, the paranormal. Oh, and there are no vampires.
Honestly, despite what I just mentioned, I really enjoyed this book. The concept was engaging and its storyline kept me guessing for a good while before I finally caught on - and even then, there were elements of surprise. This book had a much darker, more gothic feel to it than most books that I've read lately and it's something that I have missed.
Theia was a good character that was easy to relate to in most ways, but not in the romance department. The insta-love failed for me because it is beyond my comprehension as to how someone can fall so madly in love with someone so soon after they meet them. Can it happen? I'm sure it can... just not for me, which is why I cannot relate to it at all. The early acceptance of absolute love w
as the only thing I didn't like. Haden was a swoon-worthy character that I'm sure will leave every girl who reads this book with goo-goo eyes and a goofy grin on their face. I liked him. He reminded me of another old-fashioned, gentlemanly character who felt as though he didn't deserve love because he was a monster.

*ahem*
Without saying too much, the dr
eam sequences in this book really worked for me.

The descriptions were amazing and everything came together perfectly at the end. I absolutely adored Gwen Hayes' writing style in this book, it's entrancing and poetic. Overall, this book was everything that I expected and then some. I really enjoyed it.


Stalk

Find

Gwen Hayes Online
Website | Blog | Facebook | Twitter | The Fictionistas


Purchase

Falling Under
ISBN:
0451232682
(ISBN13: 9780451232687)
Amazon | Barnes & Noble | Book Depository | IndieBound