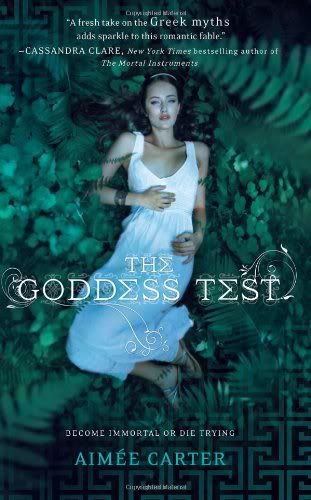 The Goddess Test
Aimee Carter
Publisher:
Harlequin
Teen

Release Date:
April 19, 2011

Series:
Goddess Test

Genre:
Paranormal, Romance, Young Adult

Pages:
Paperback, 304

Source:
Netgalley

Rating:
5/5 (Avg 3.5/5)
It's always been just Kate and her mom—and her mother is dying. Her last wish? To move back to her childhood home. So Kate's going to start at a new school with no friends, no other family and the fear her mother won't live past the fall.

Then she meets Henry. Dark. Tortured. And mesmerizing. He claims to be Hades, god of the Underworld—and if she accepts his bargain, he'll keep her mother alive while Kate tries to pass seven tests.

Kate is sure he's crazy—until she sees him bring a girl back from the dead. Now saving her mother seems crazily possible. If she succeeds, she'll become Henry's future bride, and a goddess.
I guess I should put a disclaimer on reviews of books that deal with Greek Mythology, so here it is: I am a lover of all things in Greek Mythology, so usually I'm incredibly giddy before I even open books that deal with the subject matter.
Having said that, I can tell you that this book did not disappoint me in the least. The more I read, the more it won me over. Besides the mythology, I can tell you what impressed me so much about this book: no insta-love! Oftentimes in YA books, the main character falls instantly in love with the object of her affection at the very beginning and then the rest of the book is swooning and talking about how perfect he is in every way for the other 250+ pages. This isn't the case with

The Goddess Test

. Instead, we get to see a relationship from what starts as an extreme dislike, then morphs from empathy to friendship and eventually, love. It's a realistic process, slow to start and blossoming into something incredible, something we can all relate to with love.
All of the characters seemed to pass the test (pun not necessarily intended). There was something that first irked me about Kate, but her actions and personality really won me over through the book. The rocky start to her friendship with Ava added even more layers to their relationship, again making it completely believable and all the more true to a real friendship. I think I said enough about Kate's relationship with Henry and the lack of insta-love, which in turn made me love them more. Henry's character was a more humble character, though I must say that I expected him to be a little more dark and fierce considering who he truly was. Same with James, whose character was also a little predictable but it didn't make me like him any less. Dylan's character seemed a little left-field and I was confused by his presence. I understood closer to the end, yet the whole opening scenes with him felt a little more like a page-filler than anything that was truly necessary to the story.
Despite some minor character issues, I can't say anything bad about this book - which means that those issues are so minor that they can be completely ignored. The story was amazing, the characters and intertwining of mythology equally so. I predicted some of the ending, but it ended up taking on more of a twist than I had initially expected. It was a pleasant surprise. It was also a fairly quick read, so there was no room for a lot unnecessary details. I enjoyed this book immensely and cannot wait for the next in the series to come out.




Find Aimee Carter


Website | Blog | Facebook | Twitter

Pre-order

The Goddess Test


Amazon | Barnes & Noble | Book Depository | IndieBound